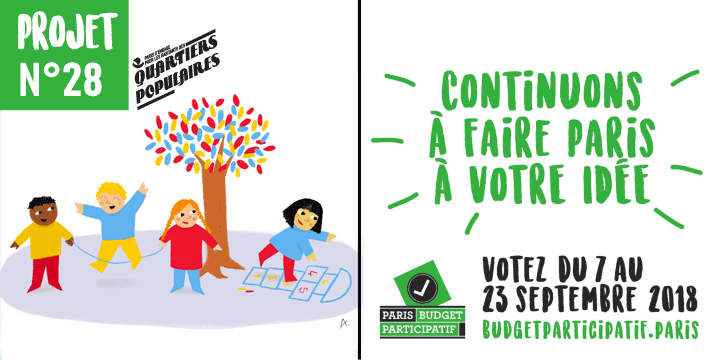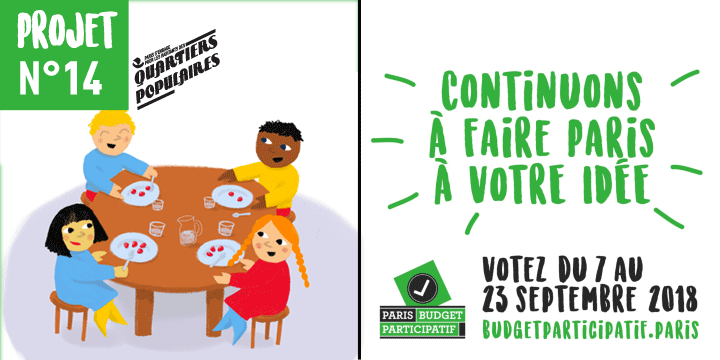 La Ville de Paris a lancé
Paris Budget Participatif
, un site qui propose aux Parisiens de décider de l'utilisation de 5% du budget d'investissement (soit un demi-milliard d'euros entre 2014 et 2020). Les parents d'élèves d'une école du 19ème arrondissement, désirant que la cantine et la cour de récréation soit rénovées (un budget de 600 000€) ont mené une opération de sensibilisation passant par la distribution de flyers, la création de bannières, etc.  
Pour illustrer leurs visuels, j'ai créé quatre personnages habillés de couleurs primaires. L'idée étant de se positionner sur un registre positif — et non pas de culpabilisation — en montrant la satisfaction des enfants à venir. Les illustrations ont été placées dans des bannières animées.
Le projet a remporté les votes nécessaires pour rénover la cantine et la cour de l'École !
—
The City of Paris has launched Paris Budget Participatif, a website that offers Parisians the option of using 5% of the investment budget (half a billion between 2014 and 2020). The parents of a school in the 19th arrondissement, wanting the canteen and the playground to be renovated (a budget of 600 000 €) have carried out an awareness campaign through the distribution of flyers, the creation of banners, etc.
To illustrate their visuals, I created four characters dressed in primary colors. The idea is to position on a positive register — and not on guilt — by showing the satisfaction of the children to come. The illustrations have been placed on communication media.
The project won the votes needed to renovate the school canteen and courtyard.